Chore Checklist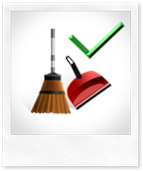 Chore Checklist helps you to manage chores at home or other places. When you check off a chore, it records the chore's completion date and automatically calculate next due date based on your preference. You can also set reminder for each chore.
It comes with a pre-loaded check list which has routines, such as "Daily Routine", "Weekly Routine", "Monthly Routine" and etc. You may edit them or add new routine/chores.
The app also allows you to create multiple lists. So you can have one for home, one for work and etc. Or you can have one for each person in your family.
With the help of cloud connector, it enables you to sync/share lists between devices and users. It also allows you to backup your lists to our cloud server.
Please check the latest release notes here:
You can also find user guide here: